Wednesday, August 29th, 2018
Unicut Precision which has now bought 70 machines from Citizen invested over £1.5 million in seven machine installations during late 2017 of which six were by Citizen Machinery UK. The Citizen Machinery supplied machines comprised two Miyano BNE-51MSY fixed head and four Cincom L12-VII sliding head mill-turn centres, with one featuring Low Frequency Vibration (LFV) technology. This contribution to improve productivity targets has helped to increase 2018 as a clear sales record to the sub-contractor, putting the firm well in tune to hit sales of £5 million this year.
Unicut is shipping on average 1.2 million parts a month and processes 370 different product orders of which a third is directly exported. In addition, as the company has moved forward, it has added the responsibility to provide some 30 different 'direct-to-line' assemblies and sub-assemblies to customers.
The decision to install two Miyano BNE-51MSY fixed head machines followed the firm's market review of twin-turret, two spindle turn-mill centres that could suit parts already perfected and produced in batch quantities between 2,000 and 5,000 on top-of-the-range Citizen Cincom M32 sliding head machines which were coming up to five years old. (more…)
---
Monday, July 2nd, 2018
Colpa Precision Engineering has slashed weeks from its lead time with significantly reduced material costs plus the ability to obtain greater number of parts from a bar following the installation of a Citizen Cincom A20-VII with non-guide bush capability for use on plastics components.
Said General Manager Martin Branch: "The removable guide bush feature on the Cincom A20 has increased our competitiveness in a tight market as we no longer have to order pre-ground bar for plastics components which has not only reduced material cost, but also saved four weeks on our lead time to customers and has enabled us to pick-up new business."
Colpa Precision Engineering was set up in 1946 having consistent investment with some £560,000 spent over the last three years with some six Citizen sliding head machines installed.
On the Watford site, 10 people are employed and production batches vary between prototype and customer development parts to continuous production runs such as involving the supply of 32,000 parts a month.
Colpa's customer base covers a wide field including optical, electronic, audio, music, pneumatics, commercial air conditioning and certain aircraft industry companies producing parts from brass, mild and stainless steel, aluminium, titanium and a wide range of plastics including PEEK and acetal. Cycle times tend to generally vary between 45 secs and 2 mins. (more…)
---
Friday, May 11th, 2018
At Astley Diamond Tools swarf problems totally controlled the business of machining silver steel blanks to which the firm then electro-plates diamond finishes for sale direct to customers around the world.
Astley Diamond Tools is a small two people business based in Witton, Birmingham that took the plunge and made a significant investment in the latest Low Frequency Vibration (LFV) turn-mill technology on a Cincom L20-VIII LFV from Citizen Machinery UK. Within just three months of installation, proprietor Ben Astley has been able to transform the firm's blank turning operations for its diamond tool production while opening a new operational door by using his very competitive sliding head machining platform to provide a sub-contract small part turn-milling service.
Said Mr Astley: "A recent batch of 500 rotary diamond burrs that are used to fettle cast iron by a regular Polish customer. This normally meant I had to almost stand by my previous aging Citizen sliding head machine and stop it every five or so parts to clear the tangled bird's nest of swarf. It would take at least 70 hours to produce the batch and now with LFV I can complete the same order well inside 16 hours." (more…)
---
Wednesday, January 31st, 2018
Such has been the impact of installing a Citizen Cincom sliding head turn-mill centre with low frequency vibration (LFV) cutting technology that Roscomac immediately increased its installed base to three machines, a further L20-VIII LFV and a smaller capacity L12-VII LFV.
Said Cell Leader of the Worthing-based sub-contractor, Sean Keet: "We had been experiencing constant problems with swarf when machining certain difficult components made from high grade alloy and some stainless steels plus copper, plastics and even some difficult specification aluminiums. Despite constant monitoring, we often faced significant levels of scrap or re-working, in particular due to swarf marks."
He now maintains that production of parts has been totally transformed following the initial installation of the Citizen Cincom L20-VIII LFV turn-mill centre in July. He said: "Such was the level of realisation that within weeks Managing Director Joe Martello insisted we bring forward 2018 investment plans and immediately ordered two further machines with LFV." (more…)
---
Tuesday, January 16th, 2018
Davturn, a small family-owned precision sub-contract machinist based in Bromsgrove has found increasing its production capability by installing a Miyano BNE-51SY6 turn-mill centre has added fuel to the burning desire to expand the five-people business into new larger premises. As a result, managing director Mark Birley maintains, such has been the impact of the new machine that moving premises will then allow further Miyano installations by Citizen Machinery UK to increase its operational capability.
He said: "We installed the multi-axis 51 mm bar size Miyano BNE-51SY6 to join our existing Miyano BNA-42DHY which had already proven to be an outstanding success for the business since its installation in 2012. At that time it enabled us to increase the size of bar we machine from our bank of five sliding head machines which limited our capacity to 32 mm. Now, with a 51 mm capacity this has immediately brought in a host of new orders."
Mr Birley set up Davturn 13 years ago buying his first CNC machine in 2007. Joined by his son Matthew, who is now a director, deciding he would rather have a longer skill-based future in machining than he would as an young career footballer when he played for Premier League side Birmingham City. (more…)
---
Monday, October 30th, 2017
The specialist fastener operation of Midlands-based Non Standard Socket Screw (NSSS), a major UK producer and stockist of high quality fasteners, is continuing its policy of upgrading competitiveness by not only increasing levels of productivity with further 'lights-out' operations, but also achieving improvements to quality and most important, consistency of production, especially in more difficult to machine materials.
To help achieve this target, so far in 2017 NSSS has ordered four CNC sliding head turn-mill centres worth some £400,000 from Citizen Machinery UK. These machines are in addition to two existing Citizen Cincom installations in its recently extended 8,000 ft2 production area to the 30,000 ft2 Hockley facility.
The two Citizen Cincom installations of an L32-VIII and L20-VIII made earlier in the year are now in full production. Following the operational success, this has led the business to order a further Cincom L20-VIII plus a smaller capacity L12-VII.
Said Marketing Director Melvin White: "We are in a very competitive market and it is important to maintain our production capability for both UK and overseas customers. We are a modern business that is driving the use of automation and the latest manufacturing technologies to continually improve quality and output." (more…)
---
Thursday, October 5th, 2017
With the recent addition of an own product involved with fire suppression to its highly successful sub-contract machining operation, HPC Services of Ilkeston, Derby, has ordered the latest Citizen Cincom L20-VIII LFV turn-mill centre. By including Low Frequency Vibration (LFV) machining technology in the specification, Managing Director of HPC Paul Cobb maintains this will give his business a lead in the market by revolutionising his production of materials such as 321 corrosion resistant and 416 chromium steel alloy stainless steels and plastics type materials.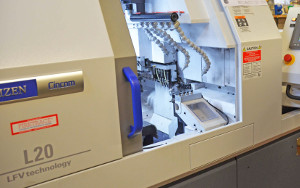 Said Mr Cobb: "This machine will enable us to competitively quote on new work which we would normally decline and will give us additional capacity as we build up production on our in-house developed water-based fire suppression system."
HPC has currently 10 Citizen Cincom machines installed, with the last Cincom L12-VII currently very competitively producing components as part of a 40,000 a year contract. The plastics tube, 110 mm in length is turned and a hole produced through its length to a concentricity tolerance of 0.05 mm TIR. Said Mr Cobb: "So productive is the machine that we have reduced our cycle time from over a minute to just 12 secs." (more…)
---
Monday, September 11th, 2017
Some 1.5 million parts are despatched a year from Worthing-based precision subcontract machinist Roscomac that is achieving record on-time deliveries of 98 per cent that vary from completed assemblies and sub-assemblies to large machined castings and small turned parts. The complete operation of the 85 people company is driven by a philosophy of constant development of lean manufacturing techniques, supported by investment often exceeding £1 million a year and an 'open-liaison' people strategy which keeps the workforce up to date on the company and any issues arising.
Said Managing Director Joe Martello: "We invest in automation and the latest production technology which helps to overcome the shortage of skills we would require. However, it so important that we still need to grow our own engineers through constant support and by training, in order to maximise our return-on-investment and so improve how we support and what we deliver to customers."
In the first six months of 2017, some £750,000 had already been allocated or spent which included the installation of the latest Miyano BNE-51MSY multi-axis turn-mill centre. Two further CNC sliding head turn-mill centre machines have also been ordered and soon to be delivered, again like the Miyano, each is from Citizen Machinery UK. The two machines, a Citizen L20-VIII LFV (LFV featuring low frequency vibration cutting technology) and a top-of-the-range M16-V will bring the total Citizen installations to 14 machines as two earlier Citizen machines are being sold. (more…)
---
Friday, September 8th, 2017
Following the recent installation of the latest Miyano BNE-51MSY multi-axis mill-turn centre, Wednesbury based precision sub-contractor Machine Tech Engineering (MTE) has been able to slash production lead times on batches of hydraulic bodies from three weeks for the first operation plus a week for the second to machining the batch complete in just five days.
The decision to go for the 51 mm bar capacity Miyano continued the already accrued benefits from introducing new machines, for instance, a Citizen A32-VllPL CNC sliding head mill-turn centre also installed recently, has just been the source of orders from a new customer in the brewing industry for 1,000 batch quantities of stainless steel pump valves. According to MTE director Warren May: "Without the Citizen we would never have dreamed of even quoting for such parts as we would be uncompetitive. But the Citizen A-Series is very quick and powerful enabling simultaneous cutting cycles."
MTE has some 30 machines, seven bought under the Citizen brand in its freehold 7,500 ft2 machine shop from which turnover is projected to top £1 million in 2017. With recent CNC sliding head installations, MTE had already benefitted significant business increases and improvements in productivity from the ability to combine operations into single cycles. (more…)
---
Wednesday, June 14th, 2017
JC Precision Engineering earns 70 per cent of its turnover from producing a wide range of components for racing go-carts, a business that has grown progressively from the race track participation of the Munday family led by father Vincent who set up the firm 36 years ago and is now run on a day-by-day basis by his two sons Dan and Chris.
Production at the Market Overton factory in Rutland has seen around £1 million invested over the last five years. Said Director Dan Munday: "We used MACH 2016 as the final decider and ordered the Citizen Cincom L32-VIII with removable guide bush which was installed in July.  Such has been the success of the machine that we are now planning for a second because we are concerned we could run out of capacity."
Since July, new contracts have been won that they could never have dreamed of producing before increasing not only profitability, but also throughput, with cycles now being clocked two-thirds faster than before.  For example one part taking 50 plus seconds on a fixed head machine is now produced in just 17 secs.
---