Wednesday, December 13th, 2017
Stand No: H20-570 MACH 2018 NEC Birmingham 9 -13 April 2018
MACH 2018 will be the first opportunity for a full exposure to visiting engineers of Citizen Machinery UK's low frequency vibration (LFV) cutting technology on both its Cincom sliding head and the latest Citizen sliding headstock turn-mill centres which takes the LFV capability up to 42 mm diameter bar size. On stand H20-570 will see the official launch of Miyano's BNA-42GTYLFV, and the Citizen Cincom D25-VIII plus the first UK exhibition showing of the smaller capacity, high speed Cincom L12-VII with LFV.
Such has been the take up of LFV technology that 500 installations were made worldwide during 2017 with massive predictions for future sales by Citizen as it progressively feeds the advanced technology feature across its product range.
LFV is controlled via programming special G-codes at the control to impart the ideal size of chip required to offset problems such as swarf 'bird-nesting'. It is also able to improve tool life, often enables an increase in depth-of-cut and improved surface finish, for instance. This is achieved by introducing oscillation of the cutting tool to introduce air-cutting' through the machine's servo axis drives in the direction of feed while being synchronised to the rotation of the spindle. (more…)
---
Tuesday, November 28th, 2017
Citizen Machinery UK is to open a new regional office, applications engineering and machine showroom in the West Midlands to further enhance its customer service offerings and "to provide users with a significant machine preparation service to support the growing number of high-value automated turnkey solutions" being handled by the company.
The circa £2 million investment on a 1.1-acre site at the Hurst Business Park in Brierley Hill, near Birmingham, will include a 600 m2 showroom. Construction is scheduled to start in early 2018 and the new facility is expected to be officially opened late next year.
"Importantly," says Deputy Managing Director Darren Wilkins, "this new facility in the heart of the country will complement our existing Citizen Machinery UK headquarters and showroom for Cincom (Citizen) and Miyano machines in Bushey, Watford, "and will play an important role in serving the modern-day demands of our growing customer base." (more…)
---
Monday, November 20th, 2017
Within a couple of hours of Citizen Machinery UK opening its doors for the Technology Days Open House, three directors of precision sub-contractor Adams Engineering (Ilkeston) ordered a Citizen Cincom L32 –VIII sliding head turn-mill centre to increase its installed base of Citizen Machinery UK supplied machines to five.
Said Managing Director Robert Roberts: "We have to increase capacity because one of our leading customers with a turnover in excess of £140 million has acquired another business. As we have a long term reliable supplier history, we are online to significantly increase part production."
The first day of the Open House was branded an outstanding success by Deputy Managing Director Darren Wilkins as his team chalked up orders from the 75 customers attending worth well over £700,000. This also included machine orders from visiting customers from Scotland and Ireland. Indeed, over the three days with more than 300 people attending, 18 orders were placed worth in excess of £3.4 million with a major focus by customers buying seven machines featuring Citizen's patented Low Frequency Vibration technology (LFV). (more…)
---
Monday, October 30th, 2017
The specialist fastener operation of Midlands-based Non Standard Socket Screw (NSSS), a major UK producer and stockist of high quality fasteners, is continuing its policy of upgrading competitiveness by not only increasing levels of productivity with further 'lights-out' operations, but also achieving improvements to quality and most important, consistency of production, especially in more difficult to machine materials.
To help achieve this target, so far in 2017 NSSS has ordered four CNC sliding head turn-mill centres worth some £400,000 from Citizen Machinery UK. These machines are in addition to two existing Citizen Cincom installations in its recently extended 8,000 ft2 production area to the 30,000 ft2 Hockley facility.
The two Citizen Cincom installations of an L32-VIII and L20-VIII made earlier in the year are now in full production. Following the operational success, this has led the business to order a further Cincom L20-VIII plus a smaller capacity L12-VII.
Said Marketing Director Melvin White: "We are in a very competitive market and it is important to maintain our production capability for both UK and overseas customers. We are a modern business that is driving the use of automation and the latest manufacturing technologies to continually improve quality and output." (more…)
---
Thursday, October 5th, 2017
With the recent addition of an own product involved with fire suppression to its highly successful sub-contract machining operation, HPC Services of Ilkeston, Derby, has ordered the latest Citizen Cincom L20-VIIILFV turn-mill centre. By including Low Frequency Vibration (LFV) machining technology in the specification, Managing Director of HPC Paul Cobb maintains this will give his business a lead in the market by revolutionising his production of materials such as 321 corrosion resistant and 416 chromium steel alloy stainless steels and plastics type materials.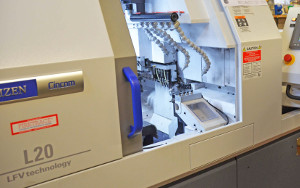 Said Mr Cobb: "This machine will enable us to competitively quote on new work which we would normally decline and will give us additional capacity as we build up production on our in-house developed water-based fire suppression system."
HPC has currently 10 Citizen Cincom machines installed, with the last Cincom L12-VII currently very competitively producing components as part of a 40,000 a year contract. The plastics tube, 110 mm in length is turned and a hole produced through its length to a concentricity tolerance of 0.05 mm TIR. Said Mr Cobb: "So productive is the machine that we have reduced our cycle time from over a minute to just 12 secs." (more…)
---
Monday, September 11th, 2017
Some 1.5 million parts are despatched a year from Worthing-based precision subcontract machinist Roscomac that is achieving record on-time deliveries of 98 per cent that vary from completed assemblies and sub-assemblies to large machined castings and small turned parts. The complete operation of the 85 people company is driven by a philosophy of constant development of lean manufacturing techniques, supported by investment often exceeding £1 million a year and an 'open-liaison' people strategy which keeps the workforce up to date on the company and any issues arising.
Said Managing Director Joe Martello: "We invest in automation and the latest production technology which helps to overcome the shortage of skills we would require. However, it so important that we still need to grow our own engineers through constant support and by training, in order to maximise our return-on-investment and so improve how we support and what we deliver to customers."
In the first six months of 2017, some £750,000 had already been allocated or spent which included the installation of the latest Miyano BNE-51MSY multi-axis turn-mill centre. Two further CNC sliding head turn-mill centre machines have also been ordered and soon to be delivered, again like the Miyano, each is from Citizen Machinery UK. The two machines, a Citizen L20-VIII LFV (LFV featuring low frequency vibration cutting technology) and a top-of-the-range M16-V will bring the total Citizen installations to 14 machines as two earlier Citizen machines are being sold. (more…)
---
Friday, September 8th, 2017
Following the recent installation of the latest Miyano BNE-51MSY multi-axis mill-turn centre, Wednesbury based precision sub-contractor Machine Tech Engineering (MTE) has been able to slash production lead times on batches of hydraulic bodies from three weeks for the first operation plus a week for the second to machining the batch complete in just five days.
The decision to go for the 51 mm bar capacity Miyano continued the already accrued benefits from introducing new machines, for instance, a Citizen A32-VllPL CNC sliding head mill-turn centre also installed recently, has just been the source of orders from a new customer in the brewing industry for 1,000 batch quantities of stainless steel pump valves. According to MTE director Warren May: "Without the Citizen we would never have dreamed of even quoting for such parts as we would be uncompetitive. But the Citizen A-Series is very quick and powerful enabling simultaneous cutting cycles."
MTE has some 30 machines, seven bought under the Citizen brand in its freehold 7,500 ft2 machine shop from which turnover is projected to top £1 million in 2017. With recent CNC sliding head installations, MTE had already benefitted significant business increases and improvements in productivity from the ability to combine operations into single cycles. (more…)
---
Wednesday, September 6th, 2017
3 to 5 October 2017, Bushey, Watford
Citizen Machinery UK's Annual Open House event being staged between 3 and 5 October will feature a pre-launch preview of Citizen's latest generation Cincom D25 sliding headstock, a 10-axis CNC turn-mill centre, with new control, two gang and a back tool post plus B-axis with 59 tool capacity.
In addition, amongst 12 Citizen and Miyano machines to be installed at the showcase event will be the UK launch of the widely acclaimed Low Frequency Vibration (LFV) technology now available on the smaller capacity Cincom L12-VIIILFV. This additional model is the next phase of the machine tool builder's programme to extend this production advantage across its product range following its UK launch on the L20 machine type during 2016.
Visitors to the UK headquarters at Bushey, Watford, will also be able to discuss face-to-face, confidential finance support to help with future investment plans involving machines from the Citizen Cincom and Miyano fixed head turn-mill centres ordered during the event.
The Cincom D25-VIII has a 135 deg B-axis incorporated within its first gang tool post for complex feature machining at both the main and sub-spindles and also features a Z-axis with the second gang tool post enabling simultaneous balanced cutting with the first gang tool post. (more…)
---
Thursday, July 27th, 2017
Citizen Machinery's fully integrated laser processing into the turn-milling cycle of its Cincom CNC sliding head turn-mill centres enables near endless possibilities for the creation of geometric shapes or precision holes into solid bar material which has been pre-drilled within the same production cycle or directly into tubular bar material.
The development opens the metal cutting production process to producing burr-free holes as small as 0.2 mm diameter, produce features such as spiral cuts with 0.025 mm kerf width and maintain consistent and accurate radii less than 0.1 mm in corners of slots without any risk of tool wear or breakage. These can also be produced at a far faster rate than can be achieved by a separate EDM process, for instance.
The Citizen Cincom breakthrough opens new design concepts, in particular in sectors such as medical, electronic and micro industries where the speedy, accurate, highly flexible and reliable Citizen CNC sliding head machine can be integrated with the gains and advantages of non-contact laser operations. Laser cutting can offer quick and accurate 'swarfless' cutting, the minimisation of any chance of material deflection due to cutting force reaction and the highly precise production of special shapes and forms.
---
Thursday, June 22nd, 2017
Cars manufactured in Britain are becoming more British, according to a new Automotive Council study released today.
The report, Growing the Automotive Supply Chain – Local Vehicle Content Analysis, shows that 44% of all components used by UK carmakers now come from domestic suppliers, compared with 41% in 2015 when the study was last carried out.
In 2011, local vehicle content stood at 36%, which itself was an improvement following years of decline in UK automotive manufacturing.
Mike Hawes, SMMT chief executive, said: "The domestic supply chain is the backbone of UK Automotive and its health is crucial to the success of the whole sector.
"While it is good news that British cars are becoming more British and re-shoring efforts are enjoying success, the process takes considerable time.
"To grow our supply chain further, the long-term competitiveness of the UK must be maintained.
---