Monday, July 2nd, 2018
Colpa Precision Engineering has slashed weeks from its lead time with significantly reduced material costs plus the ability to obtain greater number of parts from a bar following the installation of a Citizen Cincom A20-VII with non-guide bush capability for use on plastics components.
Said General Manager Martin Branch: "The removable guide bush feature on the Cincom A20 has increased our competitiveness in a tight market as we no longer have to order pre-ground bar for plastics components which has not only reduced material cost, but also saved four weeks on our lead time to customers and has enabled us to pick-up new business."
Colpa Precision Engineering was set up in 1946 having consistent investment with some £560,000 spent over the last three years with some six Citizen sliding head machines installed.
On the Watford site, 10 people are employed and production batches vary between prototype and customer development parts to continuous production runs such as involving the supply of 32,000 parts a month.
Colpa's customer base covers a wide field including optical, electronic, audio, music, pneumatics, commercial air conditioning and certain aircraft industry companies producing parts from brass, mild and stainless steel, aluminium, titanium and a wide range of plastics including PEEK and acetal. Cycle times tend to generally vary between 45 secs and 2 mins. (more…)
---
Thursday, May 17th, 2018
With a previous history in the tooling sector having the role as key account manager, Neil Vine 42 has been appointed by Citizen Machinery UK (CMUK) to cover the central Midlands area east of Sheffield up to Lincoln and to Hitchin in the south representing both the Citizen Cincom sliding head and Miyano fixed head turn-mill centres.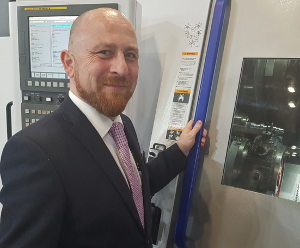 Said Deputy Managing Director Darren Wilkins: "Neil brings a strong commercial management and customer development history to CMUK. He has a long history in the tooling sector so will be a valuable asset working closely with customers and our applications team in maintaining our 'cost-per-part' purchase justification operations."
In previous roles, Mr Vine has been involved in managing and creating a strategy for regional tooling sales while working on key accounts involving UK project based tooling operations with responsibility for over £1 million turnover from just three customers.
He said: "With my commercial background and process knowledge I was deeply involved in educating buyers and negotiating price structures especially involving exotic material machining in the aerospace, power generation and mining sectors." (more…)
---
Friday, May 11th, 2018
At Astley Diamond Tools swarf problems totally controlled the business of machining silver steel blanks to which the firm then electro-plates diamond finishes for sale direct to customers around the world.
Astley Diamond Tools is a small two people business based in Witton, Birmingham that took the plunge and made a significant investment in the latest Low Frequency Vibration (LFV) turn-mill technology on a Cincom L20-VIII LFV from Citizen Machinery UK. Within just three months of installation, proprietor Ben Astley has been able to transform the firm's blank turning operations for its diamond tool production while opening a new operational door by using his very competitive sliding head machining platform to provide a sub-contract small part turn-milling service.
Said Mr Astley: "A recent batch of 500 rotary diamond burrs that are used to fettle cast iron by a regular Polish customer. This normally meant I had to almost stand by my previous aging Citizen sliding head machine and stop it every five or so parts to clear the tangled bird's nest of swarf. It would take at least 70 hours to produce the batch and now with LFV I can complete the same order well inside 16 hours." (more…)
---
Thursday, May 10th, 2018
Here are my top 5 gym exercises I do every week to make sure I stay injury free and have a well maintained working body ready for hard session.
1:
Barbell Hip Thrust
Great exercise for your gluts and Hamstrings. Which are really important in triathlon for running and also running off the bike when tired. When running your Gluts work to stabiles your hips and legs when under impact. Making sure your Gluts are strong and conditioned means your gluts will activate when running helping you run faster and more economical so you are using less energy. (more…)
---
Friday, April 27th, 2018
Citizen Machinery UK (CMUK) left MACH 2018 exhibition on a high with 46 machine orders worth over £6.3 million directly linked to the show of which 18 were confirmed and concluded during the week and a further 28 pending final specification agreement, application discussions or financial approval.
Said Managing Director Edward James: "This was an important endorsement to the activities of the new management team and especially rewarding to the effort put in by everyone in the company to achieve record exhibition sales at a UK event."
He then recollected how this rolls on from the new team's success in 2017. He said: "We achieved a record year in sales, the first quarter of 2018 set a further standard and the Japanese recognition of the business strategy has been rubber stamped with the setting up of our £2 million new CMUK facility with 600 m2 showroom in the West Midlands. This is in addition to our headquarters in Bushey, Watford."
Important in the new order placements were totally new customers to the Citizen Cincom sliding head and Miyano fixed head technology. Said Deputy Managing Director Darren Wilkins: "Of orders placed so far from the show or are under final discussions, 14 involved totally new customers. I also want to endorse the reaction to our patented Low Frequency Vibration (LFV) technology demonstrated on Cincom L20 and L12 machines plus the first introduction to the Miyano range through the BNA-42GTYLFV. In total, 18 orders were taken at the show for LFV machines worth some £1.9 million." (more…)
---
Wednesday, April 11th, 2018
Citizen Machinery UK has appointed Sam Nottage-McNeice as European Sales Manager responsible for co-ordinating distributor operations that come under the Citizen Machinery UK (CMUK) network to include France, Portugal, Spain, Scandinavia the Middle East and Africa.
Said Deputy Managing Director Darren Wilkins: "We are progressively looking for younger people for our team in the UK and Sam is a prime example of a young, enthusiastic and ideally qualified engineer, able to work with the principles and CEOs of distributors that come under our responsibility, as well as having to report to Japan."
Following an engineering background as an avionics technician in the REME, he spent six years in machine tool sales before joining CMUK. The machine tool exports from CMUK has seen significant growth during 2017 with more than 300 machines being installed and as with the UK market, each dealership had a record year of trading. This increased activity contributed to an important increase in market share. Meanwhile, forecasts are proving very strong that this trend will continue through 2018.
As in the UK, sales of Low Frequency Vibration (LFV) technology machines has given a massive international boost to Citizen's Cincom sliding head machine sales as it is being progressively introduced across the range including the company's Miyano fixed head turn-mill centres. (more…)
---
Thursday, March 29th, 2018
Citizen Machinery has further developed the programmable application control of chip size through its world-leading Low Frequency Vibration (LFV) cutting technology by applying it to the 12 mm capacity Cincom version of the popular L-Series. The 5-axis Cincom L12-IILFV incorporates high spindle speeds of 15,000 revs/min, to maximise performance on smaller diameter work in a compact machine requiring just 1,760 mm by 820 mm floor space.
Available through Citizen Machinery UK, the Cincom L12-VIILFV can also be specified with a 16 mm capacity bar size option to extend the capability and maximise productivity from the in-built rigidity of the design to accommodate LFV technology. These include special build standards, slideways, bearings and ballscrews plus control and software.
LFV cutting technology enables precise programmable control of chip size while eliminating deflection on very small dimeters when turning. LFV can also be selectively applied to drilling, grooving or even thread cutting plus providing an important aid to machining difficult materials from plastics and copper to high alloy steels. Through the high speed Cincom control, the servo axes in X- and Z- can be selected to provide independent rapid oscillation of the cutting tool, creating in effect, air gaps in synchronisation with the rotation of the spindle.
The machine features a 3.7 kW 15,000 revs/min main and 0.75 kW 10,000 revs/min sub-spindle, a removable guidebush assembly for economic bar usage on shorter components, with a guidebush stroke per chucking of 135 mm. Rapid traverse rates are fast at 35 m/min to minimise non-cutting positioning times. (more…)
---
Tuesday, February 20th, 2018
Through the winter it can be difficult to do every bike session out on the roads, so I have decided to sharesome of the sessions I do at Loughborough with the Triathlon Performance Squad so that you canimprove your critical power and muscular endurance throughout the winter months.
Session 1
75 Minute Session Critical Power:
The aim of this turbo session is for you to work at your max and produce as much sustainable power for the chosen time of the repetition.  At the end of the last rep you should be going as hard as possible and reaching a high heart rate. Make sure you don't start the first 6 minutes too hard, think of it as a 25 minute time trial effort. This session is great to help improve you maximum power output. (more…)
---
Wednesday, January 31st, 2018
Such has been the impact of installing a Citizen Cincom sliding head turn-mill centre with low frequency vibration (LFV) cutting technology that Roscomac immediately increased its installed base to three machines, a further L20-VIII LFV and a smaller capacity L12-VII LFV.
Said Cell Leader of the Worthing-based sub-contractor, Sean Keet: "We had been experiencing constant problems with swarf when machining certain difficult components made from high grade alloy and some stainless steels plus copper, plastics and even some difficult specification aluminiums. Despite constant monitoring, we often faced significant levels of scrap or re-working, in particular due to swarf marks."
He now maintains that production of parts has been totally transformed following the initial installation of the Citizen Cincom L20-VIII LFV turn-mill centre in July. He said: "Such was the level of realisation that within weeks Managing Director Joe Martello insisted we bring forward 2018 investment plans and immediately ordered two further machines with LFV." (more…)
---
Tuesday, January 30th, 2018
Here are some recipes for your winter training. I have been using these recipes so far this winter and thought they are to good not to share:
Snowballs: Cycling Energy Balls: When going out for them long winter rides, gels and energy bars sometimes are not that appealing. Why not try making your own Energy balls that can be specific to you. Making these are cheap quick and easy. These are my go to for them long 4h rides. I even add in protein recovery powder just to start that recovery quicker, also coconut for a good wintery look.
INGREDIENTS: This batch makes 12 balls and 1 serving is 3 balls, 1 cup of dates ¾ cup porridge oats, 2 heaped tbsp. of peanut butter, 1 tbsp cocoa powder, 3 tbsp mixed seeds.
DIRECTIONS, Soak the date in 1 cup of boiling water for 15 min (or longer) and then drain, Blend all the ingredients to form a paste, Roll into balls – if it is too dry, add a splash of water, Coat in coconut or leave plain. (more…)
---